Google AMP has now been around as a format for over seven months since it's launch back in mid February 2016. Up until recently AMP was really a format you only really cared much about if you were a publishers or a heavy participant of the Google Newsfeed. The format was seen appearing on mobile around news related topics in the form of a carousel (see below).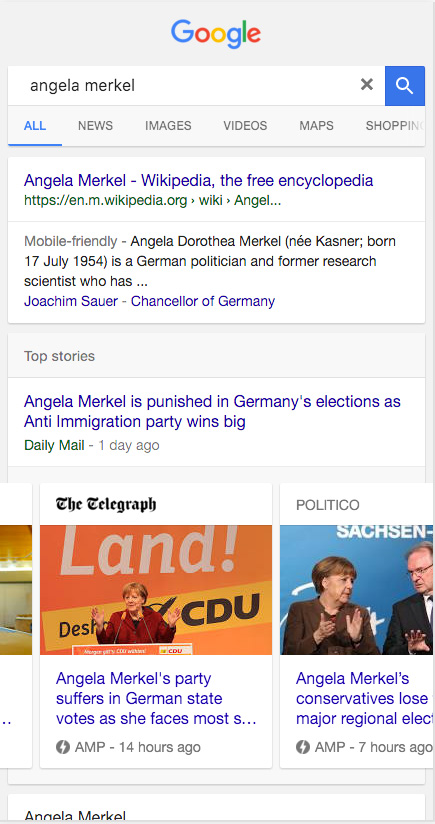 What is Google AMP?
In a nutshell AMP is Google's version of a webpage designed to reduce the time it takes for that content to load. The PR around AMP has all been about improving the users experience, there are a number of restrictions around things like loading advertising in the first viewport or loading components in the page after it's first rendered. For a full breakdown of what AMP is you can visit the FAQs page at ampproject.org
You can find a list of publishers and technology companies currently using AMP in their day-to-day publishing. There is a fantastic AMP GitHub resource where there are guides and discussions around popular topics.
Many CMS systems are already building AMP into their software to make the process of creating AMP as simple as possible. Here's an example of AMP WordPress plugin which is freely available.
I'm not a major publisher, why should I care about AMP?
Today's post (Monday, September 12) from the Google Webmaster blog highlights that the format is about to hit the normal organic blue links of your search feeds. In other words indirectly it's about to become a ranking factor and may display any high ranking pages. I say indirect because it's currently not listed as a factor, but if we work on the assumption an AMP page is faster than a standard HTML page and speed contributes to mobile page ranking factors, then you can see why AMP pages become important.
The quotes below show why all publishers of content need to start paying attention.
In advance of AMP expanding in Google Search, over the next few weeks we'll be posting pointers to help you #AMPlify your site.
Later this year, all types of sites that create AMP pages will have expanded exposure across the entire Google Mobile Search results page, like e-commerce, entertainment, travel, recipe sites and many more.